Website SEO Audit: The Complete Beginner's Guide to Audit Website
April 14th, 2022
Online website promotion is one of the key elements of any digital marketing strategy. By optimizing your site, you can get more traffic from organic search, which is almost free. To rank high in the search results, you need to continuously work on SEO, improving site pages and overall site performance. A mandatory step in any SEO strategy is a website SEO audit. It is the process of checking your site regarding potential problems and identifying possible space for improvement, getting more traffic and sales. It normally consists of:
Technical SEO audit,
User experience SEO audit,
Backlink profile audit,
Content SEO audit.
How to conduct a website SEO audit?
There are several areas a website should be audited on, and a good start for it is to run a technical SEO audit. After all, if something is just not working or set up wrong on the site, it will cripple any other efforts and won't let you get much traffic.
It's rigorous work, which takes enormous time to do manually, especially if you represent a small business and don't know much about SEO for small businesses. Thankfully, there are professional SEO tools, both free and paid, allowing you to do it virtually in one click. So let's see to run a website SEO audit, what crucial errors can be found, and what metrics you should pay attention to.
Technical SEO audit
This type of website SEO audit deals with technical aspects of site optimization, from ensuring everything works correctly to checking page duplication. Let's start with the crawling report. It is recommended to automate this process with dedicated SEO tools that can replicate the behavior of the Google crawling bot and, therefore, can spot the errors which may prevent it from properly crawling all your pages. There are several types of key crawl errors:
Non-availability occurs when some part of your site is unavailable due to a high load on your server, timeouts, or DNS problem.
Robots.txt issues – this file helps search engine crawlers to index your content. If the Google crawler doesn't see robots.txt on your site, it stops crawling, resulting in your new pages not being indexed.
Sitemap.xml issues is a special file mapping all the pages on your site, which helps website crawlers from search engines easily find all pages on your site. You can generate a sitemap of your site during the next SEO checkup in SE Ranking's site audit tool. Potential problems can be as follows:

Sitemap is missing;
Sitemap is too large;
Noindex pages are present in sitemap;
Sitemap is not present in robots.txt.
Metadata and tags:

Incorrect length preventing them from showing fully in search results;
Duplicate tags on different pages;
Chain of "canonical" tags;
"Canonical" tags pointing to non-HTTPS URLs;

Noindex or nofollow in the HTML or HTTP header.

Open/forbidden indexation. Most of the site's pages should be open for indexation by search engines, but some important pages might be forbidden from it somehow. It may happen due to an SEO mistake or when a webmaster has forgotten to open some site sections for indexing after a long development. However, there may be pages that actually don't have to be indexed – a shopping cart page or a wishlist page which usually are dynamically generated for each user. Make sure they're closed from indexation. You'll see potential problems in the crawling report, so make changes to those files to fix them. There can be quite several potential issues here when the page you want to be indexed is:

Forbidden in robots.txt;
Blocked by noindex;
Blocked by nofollow;
Blocked by x-robots tag.

URL problems: they refer to broken links pointing to some non-existing pages. Typically it happens when the URL of some page was changed, but the links to it were not. Also, some pages may be no longer present but still be linked to, and some URLs can be too long for crawlers to handle correctly. Try SEO Analysis Tool by SEO Workers for all basic checks for one page. It may come in handy if you've done changes on a specific page and want to see if everything is OK.
Frames are used: frames are old and outdated website elements. It is better not to use them entirely as they mess up with proper crawling.
Now let's move to other possible technical issues with your website that can be spotted with a thorough website SEO audit:
Website security: using HTTPS on your site improves the security and rankings in search engines. There may be several types of troubles with HTTPS worth checking. If any of these events happen, your site will be flagged as insecure by search engines and might lose its traffic volume significantly:

Expired certificate – the SSL certificate has an expiration date, and if it is not renewed, it becomes untrustworthy. You may check your SSL certificate with the SSL Certificate Checker tool.
Another domain name in the certificate – attempting to use a certificate from another domain can cause trouble. It often happens when there are versions of the site in different domains for some reason, like .io and .online.
Older protocol version – the SSL and TLS protocols came in versions, and some earlier ones are now considered insecure.
Non-HTTPS content on the site and HTTP pages in the sitemap or linked internally from HTTPS pages.

HTTPS Status: all your active pages should respond with correct HTTPS status codes. If you see some error response codes in your crawl report, you should fix them, particularly by removing non-responding pages with 404 errors.
User experience SEO audit
If you follow recent digital marketing and SEO trends, you know that one of the main goals of search engines is to provide a positive user experience. Therefore, they actively track multiple parameters of users' behavior on sites, such as bounce rate or a pageview depth, trying to identify sites with the best UX. In addition, Google is rolling out its Page Experience update that focuses on speed, visual stability, and interactivity of pages even more. So, you need to pay a lot of attention to the usability audit, and here's what you need to check:
Website speed: there is numerous research, including this recent report by Unbounce, confirming that people react negatively, leave or prefer not to buy from slow-loading sites. Naturally, the search engines downrank such sites in their struggle to deliver a great user experience. So, making sure your pages open blazingly fast becomes paramount. You can use Google-native PageSpeed Insights to check on this and follow up with actions to take:

Compress images;
Utilize Gzip compression;
Minimize HTML, CSS/scripts, and remove any unused code;
Use CDN/caching.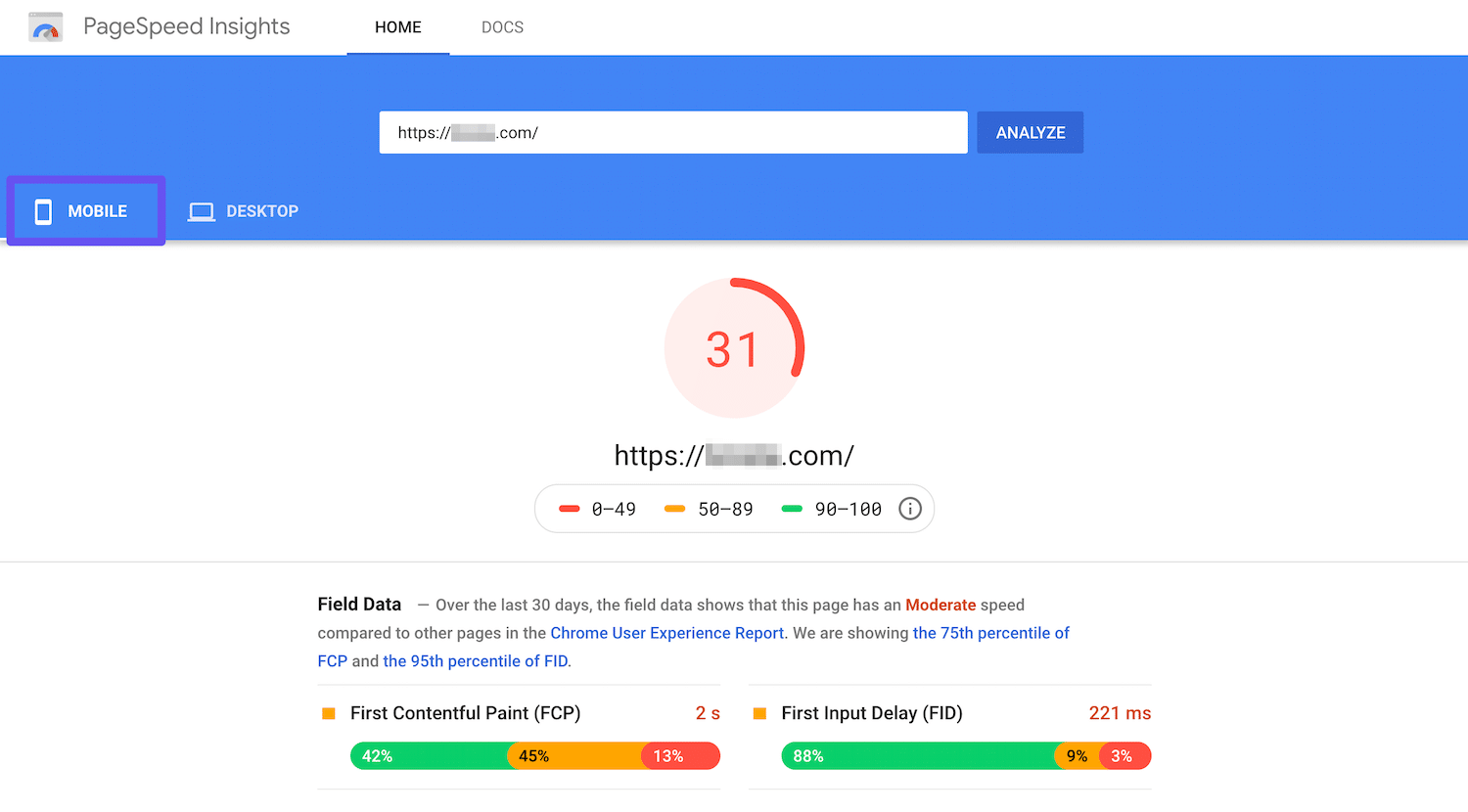 Mobile-friendliness: the ever-growing popularity of smartphones caused the continuous increase of traffic coming to sites from mobile devices. It was so significant that it resulted in Google adopting the "mobile-first" indexing algorithm, giving better ranks to pages with no issues when viewed from mobile devices. Use the Google Mobile-Friendly Test to find any problems with your pages.
Navigation: while its convenience can be subjective, search engines track a lot of parameters on your pages like bounce rate, dwell time, or pages per visit to make their judgments on whether your pages have good navigation. Check the following:

CTAs and visual cues: an easily understood interface can make or break website usability. Ensure that all your menus, buttons, status bars, and such are always clearly visible, relevant, and easy to understand.
Text eligibility: reading the text on your site shouldn't be difficult. Consider people with less than perfect sight and adjust your font size and the font itself accordingly.
Pop-ups, online chats, etc.: all those fancy things popping up on the screen, often unexpectedly, can annoy your users. They can increase conversion, but make sure they're not too intrusive and not blocking the important content or navigation.
Backlink profile SEO audit
One more area to check is your backlink profile. Generally, the more links you have to your site, the better, but in 2021, they should be 100% reliable. You should keep an eye on links you get from other sites as, on the one hand, you need to grow your backlink profile systematically and, on the other hand, you need to get rid of "toxic" backlinks.
You can start investigating your backlinks in Google Search Console, but it offers only some basic information, e.g., what sites link to yours and the anchor texts.
So this is what you should check during the backlink profile SEO audit:
Domain trust and page trust are similar metrics based on multiple factors, including the quality of referring domains and backlinks pointing to your site as a whole and specific pages. If your site gets a mark below 50, it's considered weak, and you need to improve the situation ASAP (delete toxic backlinks and get links from more reliable resources).
The total number of referring domains is the number of sites referring to yours, and you'd want it to be as high as possible, provided they are quality sites. You'll see their domain trust and can always make your judgment by checking these domains.
The number of backlinks from all the referring domains. Check this parameter from time to time to make sure your backlink profile is growing and you're not losing backlinks.
Top backlinks anchors are the words or phrases used to link your site. It's good to check whether the anchor corresponds to your target keywords and whether generic keywords are used for anchors – sometimes that's bad as the wording used as the keyword should also correspond to the topic of your site. Generic words like "here," "click," and "read more" are considered spammy by Google robots.
Dofollow/nofollow ratio shows how many sites refer to you with a "dofollow" tag that is positive for your SEO and how many backlinks do not transfer PageRank to you. You're good if you have about 60% of dofollow backlinks, but it may still be less or more, depending on your backlink strategy.
There is also another useful tool for backlink checking, Majestic.com. It shows the history of backlinks over time and also offers many of the above data in chart form, which may be a bit easier to grasp for your digital marketing team.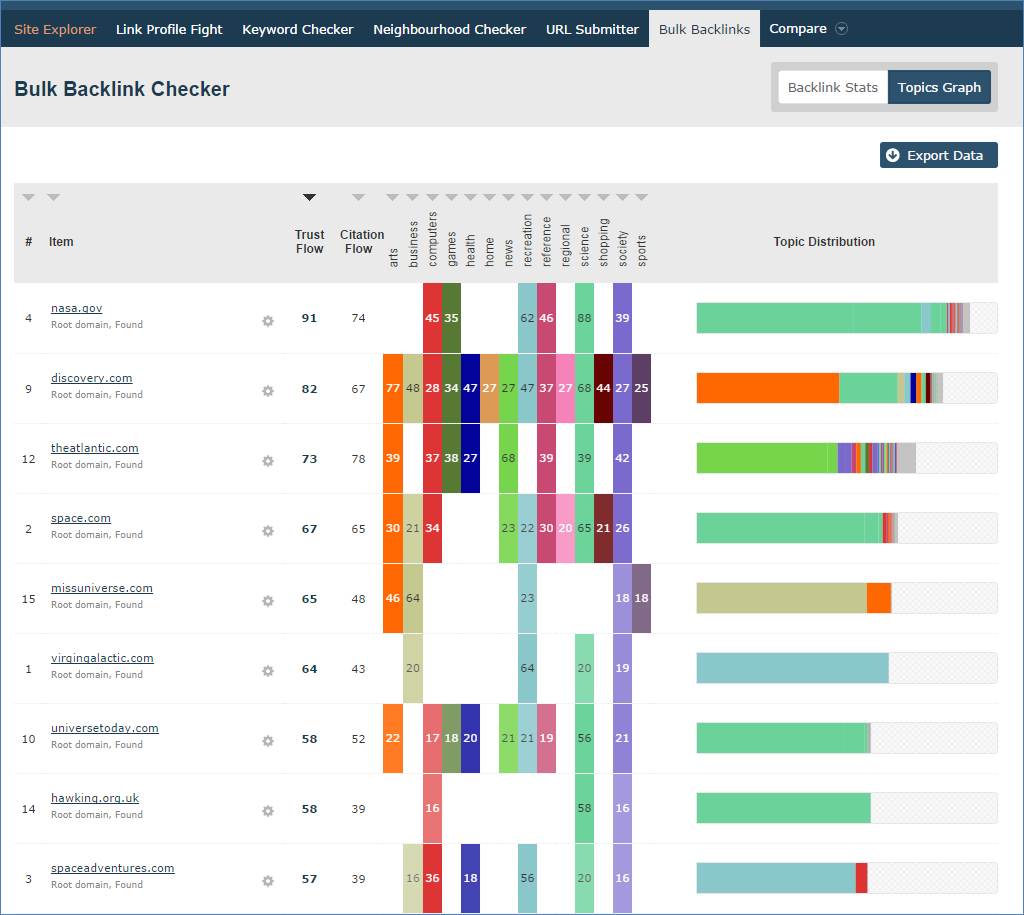 Content SEO audit
It deals with the quality of the content on your site for SEO. It could be a subjective area, but several objective factors like duplication or low word count exist. Here is what to look for:
Content value: compare your pages you intend to rank well on specific keywords with the same of your competitor. You may use the search operator "site:" to run a search for specific keywords on your competition sites. Also, you may use the Woopra tool, which is great for understanding customer journeys – it may help you prepare engaging content.
Hierarchy: Google loves not only relevant and interesting but also well-structured content. Ensure all your texts across the site and blog are properly formatted, include bullet lists, H1-H4 headings, subheadings, and are divided into small paragraphs. You can check any such problems with your content with the SE Ranking Website Audit tool.
Content duplication happens when you have two or more pages with nearly the same content. There are several tactics on what you can do to eliminate duplicate pages:

Remove pages you no longer need (do not forget to set up redirects for pages that are no longer available).
Merge duplicate pages into one super page.
Set "canonical" tags to tell search engines which pages are the "main ones."

Content gaps: there may be keywords you would want to rank well for, but currently, you may not have a page for them. Blaze can help you with a thorough content SEO audit, planning your content marketing, and setting up an efficient branded search. It's an excellent pick for any small business owner who wants to create content but has not much time for this.
Summary
The website is arguably your most important digital marketing asset, and you should make sure it is in top shape. Ensuring this is called a website SEO audit typically consists of four stages: technical, usability, backlink, and content SEO audits. With the help of special SEO tools, you can conduct website SEO audits literally in one click. And you can run such check-ups whenever you want – especially after significant updates on your website by yourself (if you are a small business owner) or your digital marketing department.
So, just follow the guidelines in this article and pay attention to the errors and suggestions the website SEO audit tools show up. Fix them in time, and your website will stay healthy, bring more and more traffic, and be profitable for you.
This content has been Digiproved © 2022 Tribulant Software
Alina Tytarenko is part of the marketing team at SE Ranking. She shares her experience in marketing techniques, link building, content marketing, and SEO with readers.
Professional newsletter templates that are fully responsive for desktop, tablet, and mobile. They are 100% cross-client compatible.
See Them